When it comes to commercial property insurance, there is a lot of terminology you'll need to know. For starters, the difference between actual cash value and replacement cost. This is how your insurance company determines the value of your property and decides how much to pay out in the event of a loss.
Keep reading to learn more about actual cash value vs replacement cost and how to choose the right coverage for your business. 
What is Actual Cash Value
Actual cash value insurance is a type of business property insurance that includes factors such as depreciation (loss of value over time) into the amount the insurance company pays out when a covered item is damaged.
With an actual cash value policy, the cost to rebuild or repair your property is broadly determined by a multitude of things like the original price and depreciation.
Actual cash value policies tend to be cheaper upfront, with lower monthly premiums because the potential payout is less. While this is great for people looking for budget-friendly insurance options, it's important to remember that your out-of-pocket costs will be higher if you need to file a claim.
What is Replacement Cost?
Replacement cost insurance, on the other hand, protects your property up to the limit of insurance purchased for covered losses. With this type of coverage, the potential diminished value is much less likely to impact your claim and you are more likely to fully recover from your loss. This type of coverage is typically more expensive because the loss is potentially greater. However, your increased monthly expenses may be well worth it when you consider that you won't have to pay as much out of pocket to quickly replace your damaged property.
Whatever coverage you choose, you can rest assured knowing your commercial property is protected and you'll have the help you need to resume business quickly and affordably after an incident.
Actual Cash Value vs Replacement Cost Breakdown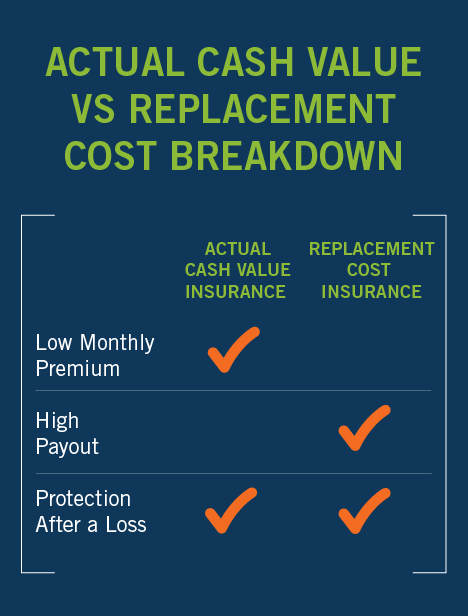 Actual Cash Value Example:
Say you own a café and a small kitchen fire damages your stove - if you purchased the stove for $10,000 in 2016 and its value depreciated by 4% each year, your actual cash value would be approximately $7,600. After filing the claim, your policy would pay out that $7,600, less your deductible, and you would be responsible for paying the difference out of pocket for a new stove.
Replacement Cost Example:
Imagine you spill coffee on your laptop during a morning meeting. If the laptop was initially purchased for $2,000 then, regardless of time or the condition of the computer, your insurance policy will pay the full $2,000, less your deductible (if applicable) to help you replace it. If the computer now costs $2,200 brand new, you'll be responsible for covering the difference. If the price remains the same, however, you'll have no out-of-pocket costs!
How Do I Know Which Coverage I Need?
The business owners coverage you choose should depend on a number of factors, including:
Your budget for insurance expenses
The amount of coverage you need and your risk
Your ability to cover out-of-pocket costs after a loss
An independent insurance agent can help you weigh your options and choose the right policy for your business.
Preparing for a Claim
With property insurance, you will need to prepare for a claim from day one. Keep any receipts, purchase orders or other documents showing transaction details and keep them with your insurance documents.
In the event you need to file a claim, you'll be prepared with:
Details of the incident
The date of purchase
How much you paid for the item
Details that may help you identify the cost of a replacement like model names, serial numbers and more
Ready to learn more? Contact us now!